News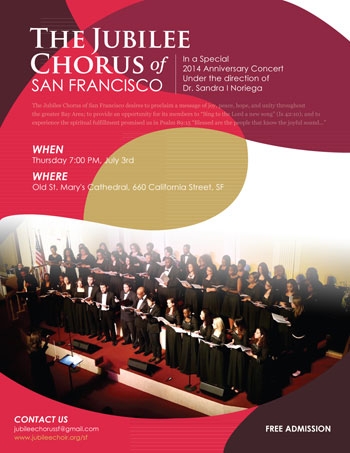 Jubilee Chorus SF will be performing a lovely program to celebrate its start and to spread the joy and hope in Christ to this phenomenal city, San Francisco. The chorus is excited to announce the first concert because we have a great vision that is to spread the love, healing, hope in Christ to the people here. It is expected that 10 singers will be singing in this concert and Jubilee Chorus SF be introduced in the performance.
We have two more rehearsals left and hope we can make a great chorus. The program includes "Jesu, Joy of Man's Desiring", "Grace Greater Than Our Sin", "A Lyric Adoramus Te", "Aria: Et Exultavit","A Patriotic Medley" etc.
And the concert will be in a catholic church at 7:00pm July 3rd. Lots of prayers are needed from members for this coming event in July.